Group Colors of Sindh is created to collect the beauty of Sindh, the land with History of Civilization of thousands years and beauty of natural views, culture and traditions. Share and Add your pictures about the places and people of Sindh with Cultural colors , scenic beauty, and places of historic importance. Irrelevant and offensive material will be removed from group.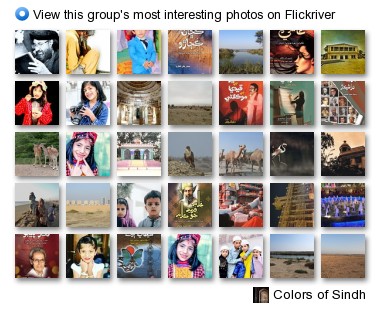 Sindh
Sindh (Sindhi: سنڌ),(urdu: سندھ),(Arabic: السند) is one of the four provinces of Pakistan and historically is home to the Sindhis. Different cultural and ethnic groups also reside in Sindh including Urdu-speaking Muslim refugees who migrated to Pakistan from India upon independence as well as the people migrated from other provinces after independence. The neighbouring regions of Sindh are Balochistan to the west and north, Punjab to the north, Gujarat and Rajasthan to the southeast and east, and the Arabian Sea to the south. The main language is Sindhi. The name is derived from Sanskrit, and was known to the Assyrians (as early as the seventh century BCE) as Sinda, the Persians as Abisind, the Greeks as Sinthus, the Romans as Sindus, the Chinese as Sintow, while the Arabs dubbed it Al-Sind. Read more about
Sindh
shahrukhphotoart has added a photo to the pool: it was a cool and breezy evening, when I met kashif ahmed. He is a vegetable seller who is just 10 years old. After the death of his father he left his school and start working for supporting his mother and family.